We take a look at features and variations among the best squash racquets to help you decide which racquet is right for you. Followed by reviews of 5 racquets for beginners and 5 racquets for advanced players. Read our squash racket buying guide to know them in detail.
| Picture | Squash Racquet | Level | Available |
| --- | --- | --- | --- |
| | HEAD Micro Gel 145 Squash Racquet | Beginner | |
| | Dunlop Blackstorm Titanium Squash Racquet | Beginner | |
| | Xamsa CNT 135 Squash Racket | Beginner | |
| | Karakal S-100FF Nano Gel Squash Racket | Advanced | |
| | Tecnifibre CarboFlex 125 Squash Racquet | Advanced | |
If you play on any of the more than 49908 squash courts in over 188 countries worldwide, you have likely wondered at some point "What are the best squash racquets for me?"
In order to answer that, there are a few things you must know about squash racquets, and about yourself, before you can decide. Let's take a look at those factors now.
Weight
A squash racquet, according to the world Squash Federation, a squash racquet can't be heavier than 255 grams. Most are between 110 and 200. So what does the weight affect? Lighter racquets allow faster reaction, but a heavier racquet will give you more power.
Lighter racquets allow you to 'feel' the ball more and offer god control. But a back court player may choose a heavy racquet to drive the shot across court.
A light racquet is easy to manage and move around, allowing you to quickly set up shots, volley the ball and play aggressively. Less experienced players who don't have as much strength will likely benefit from a lighter racquet as well.
The drawback of a light racquet is that it is harder to generate power. There are however some new technologies that are turning this around. Salman's Fusione is using a patented Vectran technology that gives the ball a good launch, and the Fusione is a very high power racquet at only 134 grams.
If you are using a light racquet, generally you will need a very fast swing to generate a lot of power.
A heavy racquet will give more power, but it can also be slower and tiring for players with less experience.
Balance
A squash racquet can be balanced in three general ways, with the weight shifted toward the head, or Head-Heavy, weight centered at the middle, or even, or weight toward the handle, called head-light.
A Head-heavy racquet is more challenging to move around, especially for beginners, and preparing for shots will take more time.
A head- heavy racquet will control the ball better, while a head light will make faster shots with less control.
A player that is very active and uses agile shots like the volley will prefer a head light racquet. A player who likes to make powerful shots will like a head heavy racquet.
A racquet which is relatively light can still be head-heavy and give more power by balancing the weight up top. You don't necessarily need a heavy racquet to get power.
In that same vein, a relatively heavy racquet can have its weight shifted toward the handle and feel lighter, giving more maneuverability. So you don't have to have a light racquet to be fast.
Head Size
Head size affects control, power and the sweet spot.
A smaller head size has more control, but a smaller sweet spot and less power, making higher precision and a fast swing necessary.
A larger head size will have a larger sweet spot and more power, but it will cost you in terms of control. The reason a larger frame gives more power is because there is more string length and therefore 'bounce' to give power. This 'bounce' can be tricky to manage to get the ball going in the direction you intend.
Later on you'll see we've included in the reviews, in our opinion, a couple of the best head squash racquet options for both beginners and advanced players.
Throat Style
There are two throat styles seen on squash racquets, open throat and closed throat (aka Bridge Throat)
Open Throat
This style has strings which extend the full length of the frame to the handle. The head shape resembles an inverted tear drop and the head appears longer. This style provides a lot of power because the strings are longer giving more bounce.
The open throat also has a larger sweet spot making it somewhat easier to play with. The drawback with this style is the same with nearly all features that add power, which is loss of control.
Closed or Bridge Throat
A closed throat racquet has relatively shorter strings, less 'bounce' and more control. It will also have a smaller sweet spot and less power.
This is also the style used in doubles, because doubles uses a harder ball and the frame on a bridge throat is more stable and able to accommodate a harder ball.
Remember, one can always make up for power with a fast swing, so as your game improves you may change your racquet style as well.
Stiffness
Most racquets today are on the stiff side due to the modern materials they are made with. Some squash players believe stiff frames give better control and the frame is less likely to distort when hitting the ball.
One thing that can occur with a stiff racquet is vibration. Many racquet manufactures have designed technology into their racquet to prevent or reduce vibration. All Xamsa racquets have vibration dampening technology in the handle.
You can also use a dampener but be aware, it may fly off the racquet at the wrong moment, causing you to lose a point. Using multifilament string or even rubber bands is another method to reduce vibration.
Some players, called 'feel' players, need a little vibration because this gives them feedback about the ball and its movement, somewhat like the whiskers on a cat, the vibration caused by the ball hitting the racquet tells the player the speed, force and even direction of the ball, just from the feel of the vibration.
Beam or Width
The beam, or width, of the racquet averages between 15 to 25mm. A thin frame width will be more flexible and feel faster. A thick beam will be stiffer, have a larger sweet spot and give you more power.
Strings
Strings are a pretty important consideration. Many racquets are sold pre-strung and others you can have strung. Restringing is easy, so it should not prohibit you from buying a frame you really like, just because you don't like the string it comes will.
Most likely you will be replacing the string at some point because it wears and breaks under the strain of regular play.
The string pattern
This is the number of strings going down and across, called 'mains' and 'crosses, respectively. So, a 14/19 string pattern has 14 'mains' and 19 'crosses.
A denser pattern gives more control and a more open pattern can give more spin.
Gauge
Ranging from 16 gauge to 19 gauge, the thinner the gauge the better as it gives both spin, maneuverability and power. The tradeoff is a thin string also snaps easier.
Tension
You can set the tension of the string, with a higher tension giving better control, but also upping the odds of breakage.
A lower tension will give more bounce and loss of control, but is less prone to breakage.
Texture
Texture affects play as well. String with a lot of texture gives the ball something to grab on to and can give more spin.
Smooth texture found on cheap nylon strings will not grab the ball in the same way. Don't try to find the best cheap squash racquet.
Additions
Many players also install vibration dampeners on the strings. Strings, much like racquets, also have their own ratings for durability, power, feel, control, spin and so-forth, so you will need to research the string before deciding, just like you do the racquet.
This is just a brief overview of strings because honestly, an entire book could be written covering the nuances of strings. Since they have an effect on play, they should be investigated and well thought-out.
Grip
Squash racquets have a standard size grip but the way the grip feels can vary. Some grips are softer, others harder, some textured or sticky, others not as much. There are grips that are more rounded, and others that are squarer.
You can use over grip or replace the grips if you do not like the feel or they become worn.
Replacing and customizing the grip is very easy and very common so try not to let the grip become a deciding factor when choosing a racquet.
Level of Experience/Style of Play
Your level of experience and style of play will be a factor in deciding which the best squash racquet is for you.
Players who use a lot of power in their game may want a head-heavy racquet. Women may opt for a lighter racquet because they have smaller wrists, and so forth.
General suggestions for the beginner
Use a less expensive racquet to start, the odds of breaking the racquet seem to go up the more expensive it is, and beginners make more errors and contact with floors and walls than advanced players, increasing that chance even more.
Go with an even balance racquet from 135 to 145 grams. Get a racquet with a large surface area as this will help with making contact with the ball while learning.
Brands
A quick overview of the best squash racquet brands are: Dunlop, Prince, Technifiber, Head, Wilson, Harrow, Black Knight, Salming, Eye Racquets, Mantis, Karack, Oliver, Xamsa to name a few.
Although, we can't say for sure that there is a one best squash racquet brand. Whatever works best for the player, is the right choice to buy.
However, a tip from us, if you are a beginner, then maybe the best choice is a Prince squash racquet since Prince makes a lot of squash racquets in a budget range. Which of course is more appealing if you're just starting out.
There are several good ones by Prince such as the Prince TT Sovereign and the Prince Airstick 130, but with so many available it is hard to say which is the best Prince squash racquet.
TOP 10 Best Squash Racquet Reviews
5 Best Squash Racquets Reviews for Beginners
Xamsa CNT 135 Squash Racket
Click Here for Pricing, Pictures and Reviews on Amazon.com
Balance: Even
Weight: 130
Material: Carbon Fiber
Throat: Bridge Throat
PROS
Slightly larger head size
Good control while still having decent power
Special anti-vibration technology built into the handle
CONS
Shorter grip than other racquets
Stock strings are not the highest quality
Review
High quality budget racquet, a great combo for beginners. Thin grip, good for smaller hands, but you can add tape if your hand is larger. The unique anti-vibration technology and black matte powercoat color are details you are sure to appreciate.
Harrow Jonathan Power Custom Turbo
Click Here for Pricing, Pictures and Reviews on Amazon.com
Balance: head heavy 17mm
Weight: 160
Material: unknown
Throat: Open Throat
PROS
Good for beginners and doubles
A lot of head space to hit the ball
Very durable
Good for new players
CONS
REVIEW
This racquet is good for beginners because it has a large sweet spot and it is a durable racquet that is forgiving and gives a lot of power as the beginner works on achieving a faster swing.
HEAD Nano Ti 110 Squash Racquet
Click Here for Pricing, Pictures and Reviews on Amazon.com
Balance: Head Heavy
Weight: 110
Material: Nano-titanium/carbon
Throat: Open Throat
PROS
Nice size sweet spot with good control
Light weight racquet
CONS
REVIEW
Power fan strings and an open throat for more head surface and great power. One of the best head squash racquet with high quality at a bargain price, great for beginners.
Dunlop Blackstorm Titanium
Click Here for Pricing, Pictures and Reviews on Amazon.com
Balance: Head Light
Weight: 135
Material: High Modulus Graphite
Throat: Open Throat
PROS
Fast racquet that is easy to move and manipulate
A large head area of 500cm2
Very powerful, racquet for an attack style player
CONS
REVIEW
Excellent price for a beginner racquet, a great value for the money. A large head and large sweet spot make play easier as the beginner is advancing his or her skill.
HEAD Micro Gel 145 Squash Racquet
Click Here for Pricing, Pictures and Reviews on Amazon.com
Balance: Balanced
Weight: 145
Material: Carbon fiber/microgel
Throat: Open throat
PROS
Flexpoint technology in the center of the frame allows for good bounce
Large head at 500 cm2
Great for beginners and advanced players
Great price as well
REVIEW
This racquet's frame is carbon fiber filed with micro gel making the racquet very responsive with minimal vibration. Truly one of the best head squash racquets on the market. You can read head squash racquets reviews to know more.
5 Best Squash Racquets for Intermediate Players
Black Knight 8110 Super Lite Squash Racquet
Click Here for Pricing, Pictures and Reviews on Amazon.com
Balance: 355
Weight: 150 gm
Material: eXtreme Modulus Graphite, kevlar, glass fibre
Throat: Open Throat
PROS
Large sweet spot
Very powerful
Known for its durability and superb balance toward the handle make a relatively heavy racquet feel lighter
CONS
This racquet is on the heavy side
REVIEW
This racquet gives a lot of power and is great for an advanced player. Its open throat gives it a lot of head space and its price is a bargain.
Salming Fusione Squash Racquet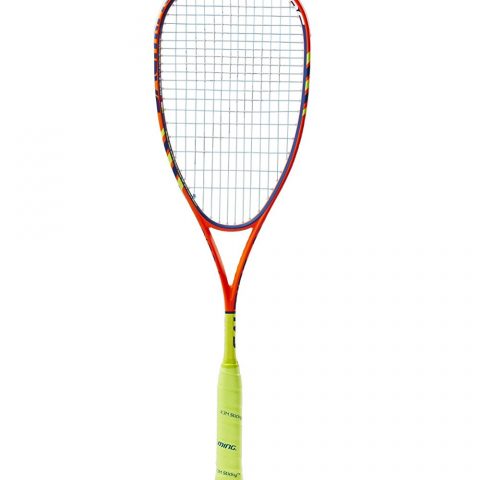 Click Here for Pricing, Pictures and Reviews on Amazon.com
Balance: Head Light 36.8cm
Weight: 134
Material: Carbon/Vectran
Throat: Closed Throat
PROS
Stylish Orange color
Very, very powerful due to Vectran technology which also cuts vibration
CONS
REVIEW
This racquet gives a lot of Power, like a trampoline for the ball due to the vectran technology. This racquet also has an Italian theme, including the name and decoration, which is a unique touch.
Tecnifibre CarboFlex 125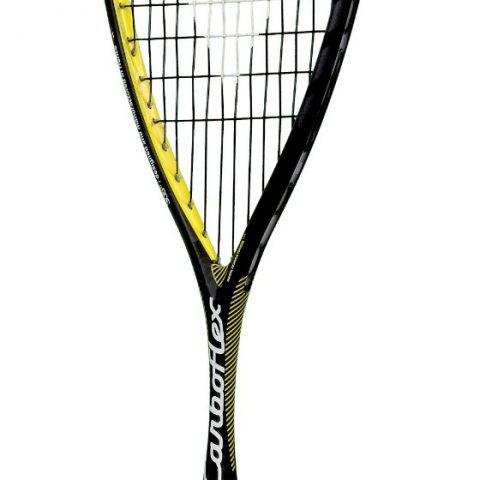 Click Here for Pricing, Pictures and Reviews on Amazon.com
Balance: 350mm Head-heavy
Weight: 125
Material: Graphite & Basaltex Multiaxial
Throat: Open throat
PROS
A large sweet spot and lots of power
Huge head size
Maximum regulation, which is impressive considering its low weight
CONS
You will feel vibration on center hits
REVIEW
Close to even balance, although technically head-heavy. Lots of head space and low weight for a head heavy racquet. A great choice for an advanced player.
Harrow 2016 Vapor
Click Here for Pricing, Pictures and Reviews on Amazon.com
Balance: 380mm Head Heavy
Weight: 140
Material: Carbon Graphite
Throat: Bridge Throat
PROS
Helps you power through the shot, need to be ready for the shot to get the most out of this frame
CONS
REVIEW
One of Harrows best selling racquets, used by many of the pros. Quite a lot of power.
Karakal S-100FF Nano Gel
Click Here for Pricing, Pictures and Reviews on Amazon.com
Balance: 365mm Head Heavy
Weight: 100
Material: Fast Fiber Nano-gel Graphite
Throat: Open Throat
PROS
Returns to its original shape faster than other racquets after a strike
Stiff shaft for more power
CONS
At 455cm2 is has a smaller head size
This racquet is for those whose game relies on speed, or want a really light racquet
REVIEW
One of the lightest Squash racquets out there. One piece construction adds to the integrity of this racquet. You will need a fast swing to get the best from this racket so it is best suited for advanced players.
We hope our squash racquets reviews has helped you decide or at least narrow down the options of the best squash racquets for you.
Don't forget, the string and grip can really change performance so take a look at those before you decide. Also when you've found the best squash racquet brand just for you, remember that whichever racquet you chose, you are not stuck with the string or grips it is sold with, those can always be changed.