We will cover the basics to help you figure out how to choose the best tennis racquets for your style of play including head size, weight and balance, frame stiffness, string pattern, grip and your level of experience.
Plus at the end we have tennis racquet reviews of the best: budget tennis racquets, beginners, advanced and women's racquets.
| Picture | Racquet | Level | Available |
| --- | --- | --- | --- |
| | Head Micro Gel Radical OS | Budget | |
| | Wilson Tour Slam | Beginner | |
| | Babolat 2015 Pure Drive | Intermediate | |
| | Wilson Blade 98 | For Women | |
When there is such a big list of the best tennis racquet brands, then choosing the one best tennis racket for you or a loved one can be overwhelming if you don't know what to look for.
So if the question "How to pick the best tennis racket?" is racking your brain – we've been there, we get it!
There are countless tennis racquets on the market to choose from, but the process becomes easier when you know what you are dealing with. There are several things you must consider before you make a choice.
The most important being your play style and level of experience. After you define your play style and experience there are characteristics of the racquet that work best for you based on those factors, so narrowing the search is easy.
Let's first take a look at the important characteristics of tennis racquets and how they relate to play style and experience that will give you a better idea how to choose the best tennis racquet for beginners.
Head Size
Head size refers to the hitting surface of the tennis racquet. The head size will influence the power the racquet has, the size of the sweet spot and the amount of control you will have on the ball.
The sweet spot is an area on the head where when you strike in that area, the vibration is minimal, and power and control are maximal, compared to other areas on the head. The sweet spot can be larger or smaller depending of the rackets dimensions.
A sweet spot closer to the center/top of the head causes the least vibration, and toward the bottom of the sweet spot, or towards center/grip, is where the most power is generated for a return shot.
The size of the head can range anywhere from 85 to 135 square inches, but is most commonly between 95 and 110 square inches.
A larger head supplies more power and a smaller head, more control.
A larger head has a larger sweet spot and is more forgiving with errors in aim that beginners often make. An advanced player will commonly use a smaller head to get the control advantage because their aim, speed and technique are better.
A beginner player will do better with a larger head to get the larger sweet spot, making up for playing errors, and to get more power, as they can not generate as much power as an advanced player until they have improved their swing speed.
Weight & Balance
Weight and balance are actually two concepts. The overall weight of the racket is simply how much it weighs. The balance refers to how that weight is distributed.
For balance there are three categories:
Head Light: The weight is balanced toward the handle of the tennis racquet.
Even: The weight is balanced toward the center.
Head Heavy: The weight falls toward the head of the racquet.
So How Do These Aspects Affect Play?
A heavy racket will have more power, control and vibrate less in the player's hand. A heavy racquet can be difficult for a beginner to manage.
A lighter racquet is easier to maneuver and causes less fatigue, but it will have more vibration and will lack the power an experienced player requires.
Keep in mind these are generalization because balance also matters.
Head heavy request will be more powerful, but a head heavy racket is not necessarily one that is heavy overall. A head heavy racket will be more challenging to maneuver and hold upright because the weight is balanced toward the head. But if you have a hard time getting enough power, this may be the best option, so it can be good for beginners.
A head light racquet will be more maneuverable but you will need a fast swing to generate power. A head light racquet is easier to play with and puts less stress on the arm, so it can also be a good choice for a beginner, but is more often used by advanced players.
More players than not use a head light racquet, and a racket that is heavy overall and head light is preferred by most pros.
An overall light racquet that is head heavy can be a good choice for a new player who is struggling to get enough power behind their shot.
Frame Stiffness
The stiffness or flexibility of a racquet changes how much power it absorbs from an incoming ball and how much power is returned back to the ball for the return.
A stiff racket will not absorb as much of the balls forward momentum and therefore can return more translating into more power.
A stiff racket is more likely to not be on the best tennis racket list, since it transfers vibration to the player's arm and is uncomfortable, but a stiffer frame is still the most common to recommend to a new player because of the power potential.
A flexible racquet will bend slightly on impact, stealing energy from the ball, decreasing power. A flexible racket may give a player more control, but this can frustrate a beginning player who may not be able to overcome the loss of power using their swing alone.
A pro player might use a more flexible frame, preferring the control because they have the power in their swing.
The Science behind the Strings of a Tennis Racquet
String pattern is a somewhat controversial issue among players, some claim it makes a big difference, where others do not notice a difference when changing string patterns.
It could very well be that a beginner or a player with less experience may not notice a difference, but the pros will notice and to them it matters.
Generally, a racket with fewer (aka less dense) patterns generate more power and spin. Racquets with a tight (denser) pattern give more control.
Besides pattern there are other string related considerations. One inventor, Madeline Hauptman, invented a tennis racquet with the strings strung diagonally instead of the classic horizontal/vertical manner. The racquet has been said to cut vibration and discomfort immensely. While no pros have adopted the style yet, it is a clear demonstration that strings matter.
Back in the 70's some players double strung their racquets in what was termed a 'spaghetti style' that caused such a large amount of top spin that experienced players were beat by unknown players. This practice was banned due to the unfair advantage.
Gauge or thickness is another characteristic of string that changes the strings performance. Generally thin strings have more power and spin, but are less comfortable due to vibration and are prone to breaking. Thick gauge strings are more durable but have decreased power and spin.
But texture also plays a part. A string with a rough texture will give the ball more spin.
And last, but not least, string material, which has changed a lot over the last 40 years, is another factor.
Traditional 'gut' strings, made of cow and sheep innards, make for superior power and 'feel'. But they are hard on the pocketbook and they break and wear more than their synthetic counterparts.
The other string types, Monofilament, Multifilament, Solid core with single or double wrap, multi-core with wrap and any hybrid in-between all give their own properties which are too numerous to cover here. But generally:
An elastic string will lose tension easier than non-elastic
More power comes from elastic strings
The more soft a string the less vibration it has
Long strings create more power
There are many more facets to string on the tennis racquet and the conversation about string could go on, but for the sake of brevity we will move on.
Grip/Handle Systems
Many beginners make the mistake of choosing the wrong size grip on their first racquet which cuts success and enjoyment of the game. A grip that is too thick or too thin will be uncomfortable and slip in your hand. Your progression will be hindered.
Tennis racquets have five different grip sizes, which in the US range from 4" to 4.75" and in Europe go from size 0 to size 5.
The easy way to try on a grip size is to hold the grip and if there is about a cm of space between the tip of your index finger to your palm, the size is good.
If you are unsure, go with the smaller size. Grips can be adjusted later to be made bigger, but not vice versa.
Play Style/Experience
We have already covered a lot about experience level and play style, but let's run through a few more points before we go to the tennis racket reviews.
In general beginners need a larger head surface, because this increases the size of the sweet spot making the racquet forgiving. Head heavy and overall light racquets are good for beginners because they are light enough to manage, but the weight up front gives them power which new players often lack.
Advanced players who are more powerful opt for smaller heads, heavier overall and head-light racquets. They can manage the overall weight and it gives them better control. They have the power in their swing so they don't need it from a head-heavy racquet.
Understand your style!
Do you want to put spin on the ball? Do you need more power? Is your current racquet too heavy, or have too much vibration making play uncomfortable? Are you an attack player or do you make most of your winning shots from the baseline?
Brands
The best tennis racquet brand is a matter of debate, but some of the top brands include Prince, Head, Babolat, Wilson, Dunlop, Yonex Technifibre, Volkl, Asics, and  PowerAngle, to name a few.
TOP Rated Tennis Racquet Reviews
3 Best Tennis Racquets for the Money
Head Micro Gel Radical OS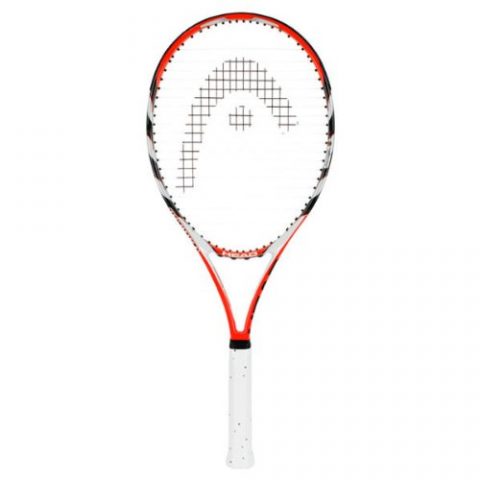 Click Here for Pricing, Pictures and Reviews on Amazon.com
Head Size: 107 sq in
Weight: 10.4 oz Head heavy
Balance: Head heavy
Pros
Light weight
Oversize head
Great price
Cons
The factory strung strings have the tension set too high
Review
Great for those who get tennis elbow or otherwise find themselves with an injury. This super light racquet is easy on the arm and transmits little vibration if strung properly.
Wilson Hyper Hammer 5.3 110
Click Here for Pricing, Pictures and Reviews on Amazon.com
Head Size: 110 sq in
Weight: 9 OZ strung
Balance: Head-heavy
Pros
Very light weight
Large head and sweet spot
Good price
Cons
May lack control and flex slightly on power shots
It can be too light and is best for beginners
Review
This is a great racquet for beginners trying to improve their game. It will give them power without weight. When their play has advanced, a heavier racquet is in order.
Head Intelligence iS12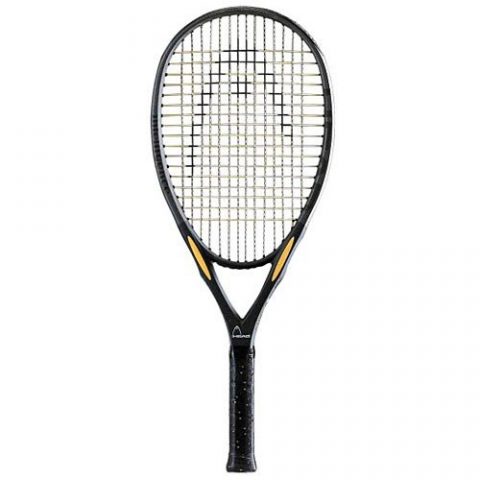 Click Here for Pricing, Pictures and Reviews on Amazon.com
Head Size: 115
Weight: 8.2 Oz
Balance: Head Heavy
Pros
Extremely light weight
Super stiff frame
Good for folks with a short stroke
Cons
Review
The lightest and largest head of the three tennis racquet reviews for the money, great for beginners. Like all three listed here, the price is great!
3 of the Best Tennis Racquets for Beginners
Wilson Tour Slam
Click Here for Pricing, Pictures and Reviews on Amazon.com
Head Size: 110
Weight: 11.5
Balance: Head light
PROS
Generous head size
Head light, but not by much, closer to even balance
CONS
Too heavy for a child beginner, this racquet is for adult beginners
REVIEW
This is a good beginner racquet for adults and those with a fast swing to generate power who want a racquet that is for beginners but not too light.
Head Ti.S6
Click Here for Pricing, Pictures and Reviews on Amazon.com
Head Size: 115
Weight: 8 oz
Balance: Head Heavy
PROS
Huge head space and extremely light
CONS
Very light, power more so than control or consistency due to the weight
REVIEW
Head is one of the best tennis racquet brand because this specific racquet is geared toward beginners, it allows the beginner to learn and advance while being easy on the arm and elbow. It will not work for advanced players because the faster swings make this one harder on the arm than a racquet designed for advanced players. Probably the best beginner tennis racquet.
Babolat 2013 AeroPro Lite
Click Here for Pricing, Pictures and Reviews on Amazon.com
Head Size: 100
Weight: 10
Balance: Head Heavy
PROS
Cortex Dampening Interface to cut vibration
Good for younger players
Flexible, can create spin
CONS
REVIEW
This racquet shines as a beginner racket for younger players; the line has smaller grip sizes available making it a great option for smaller players.
While it is not as light as some super lights, it is not a heavy racket. It is also not as big as other racquet heads, just slightly smaller, but this is a great racquet for the beginner who takes the sport seriously and wants to advance.
3 of the Best Tennis Racquets for Intermediate Players
Babolat 2015 Pure Drive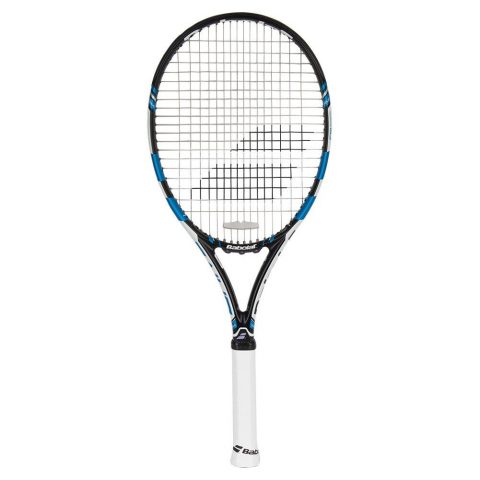 Click Here for Pricing, Pictures and Reviews on Amazon.com
Head Size: 100
Weight: 10.6
Balance: Head Light
PROS
Heavier racquet with a smaller head
Appropriate for advanced players
CONS
The sweet spot is higher than normal and will take some adjustment
REVIEW
This racquet is excellent for advanced players, it is head light with a smaller head size, and it has excellent vibration control, also an easy racquet to play with.
Head Graphene XT Instinct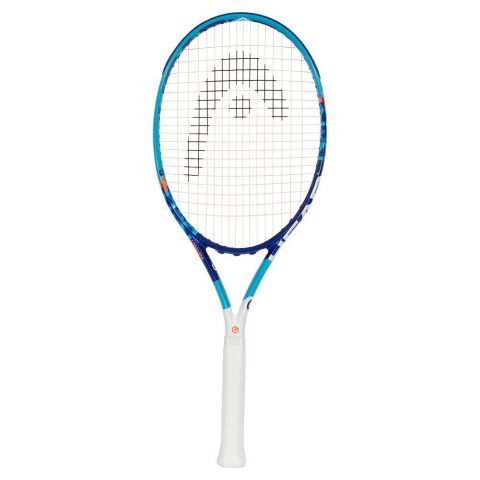 Click Here for Pricing, Pictures and Reviews on Amazon.com
Head Size: 102
Weight: 9.5
Balance: Head light
PROS
Feels fast
Has a lot of power and can be used for spinning the ball
Company tests show the racquet transmits 10% more power than other racquets
CONS
Not as solid under hard hits.
REVIEW
This lively racket is fast and furious, but not forgiving when you hit outside the sweet spot. This is geared towards advanced players.
Wilson Six One 95 BLX
Click Here for Pricing, Pictures and Reviews on Amazon.com
Head Size: 95
Weight: 12.3
Balance: Head Light
PROS
Heavy weight small head space
For advanced players
Basalt BLX frame fives good feedback and allows the player to feel the ball while eliminating vibration
Comes with a leather base and Wilson pro hybrid grip
CONS
REVIEW
One of the most stable racquets around, die to basalt BLX technology, which cuts vibration and allows the player to still feel the ball and get the feedback they need.
This racquet is too heavy and too pricy for beginners, but the seasoned player will love the control and stability the racquet has.
3 of the Best Tennis Racquets for Women
The top rated tennis racquets great for women
Wilson Blade 98
Click Here for Pricing, Pictures and Reviews on Amazon.com
Head Size: 98
Weight: 11.2
Balance: Head Light
PROS
Basalt X BLX Technology
Stable racket
Not too heavy
CONS
Harder to get spin with this racquet
REVIEW
There is a reason this is the racquet used by Serena Williams, it's a beast meant for a beauty. It is stable, thanks to Basalt technology, it is not too heavy at 11.2 Oz, but not too light for an advanced player either. This is a responsive racket with the ability to generate power.
Prince TeXtreme TOUR 100P
Click Here for Pricing, Pictures and Reviews on Amazon.com
Head Size: 100
Weight: 11.14
Balance: Head Light
PROS
Fast and comfortable
Neither too light nor heavy
Maneuverable and has a good feel for the ball
CONS
Not as forgiving as some when hit off center
REVIEW
This racquet is great for women who are more advanced players. It is a good overall weight, head-light, and offers excellent return energy to the ball.
Yonex EZONE Ai Lite
Click Here for Pricing, Pictures and Reviews on Amazon.com
Head Size: 100
Weight: 10.2
Balance: Head Light
PROS
Lighter racquet
Great price for a higher end racquet
Intermediate to advanced
CONS
May be too light for advanced players
REVIEW
This racket is in between beginner and intermediate players. Its light weight makes it one of the top rated tennis racquets for women.
It is unique in its construction, the eZone technology consists of grooved on the edge of the racquet in a cross pattern that make the sweet spot larger. The gel filled handle cuts vibration in half shock absorbing grommets help with the task. It also has a rounder handle which may fit a woman's hand more comfortably.
There are a lot of factors to consider when selecting top rated tennis racquets but we hope our guide has made tennis racket reviews that search easier.